The euro's recent surge to two-month highs against the pound fit its Elliott wave blueprint beautifully
Let's assume financial markets are driven by news events. Negative news items cause prices to fall, while positive items fuel rallies. Easy enough, right?
Not exactly. See, there are several problems with this premise, most of all this: Investors' interpretation of the news is constantly changing. To use those events as a gauge of future price action is like trying to shoot a straight arrow in the middle of a tornado.
Take, for instance, the recent news events surrounding the euro/pound currency exchange rate.
On May 18, a stronger-than-expected UK retail sales report was initially seen to be a major fundamental coup for the pound, as this news source makes plain:  
"Pound to Euro Exchange Rate: Sterling SURGES After UK Retail Sales Smash Expectations… Sterling woke from its slumber and then some, following the strong April retail sales data. This robust number has rekindled optimism in the ability of the UK economy to ride out the ongoing political uncertainty.
"Sterling has rediscovered its fight." (May 18 Daily Star)
It doesn't get any more bullish than that!
And yet, the very next day, sterling fell back into its "slumber" as that "rekindled" optimism blew out. Here, one May 19 news source attempts to explain away the pound's rogue bearish move:
"Pound to Euro Exchange Rate: Sterling FALLS Despite Supportive Economic Growth in UK" (May 19 Daily Star)
So, essentially, the same news event deemed uber-bullish one minute is futile against the pound's downtrend the next?
How about this instead: News is largely irrelevant to a market's underlying trend. In our experience, price action is driven by investor psychology, which unfolds as Elliott wave patterns directly on a market's price chart.
Like, say, the EURGBP. On May 11, our Currency Pro Service analyst Michael Madden identified a powerful bullish set-up on the intraday price chart of the EURGBP — namely, the start of a third-wave rally. Madden wrote:
"We are counting an impulse pattern complete off the 0.8315 low, wave (i) of ((c)), a corrective pullback, wave (ii), must not penetrate the same low in order to keep the bullish forecast alive and will create the next setup for higher in wave (iii)."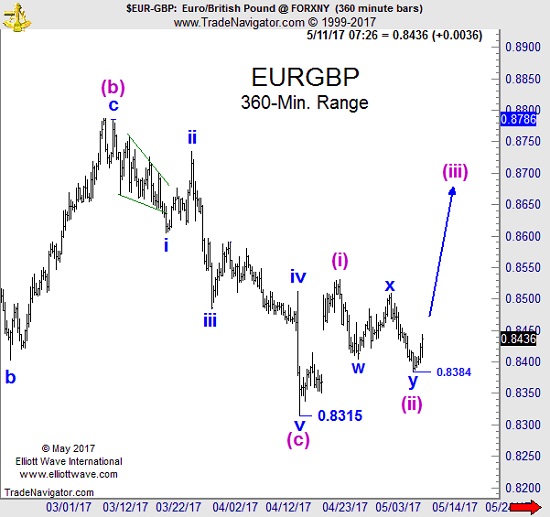 From there, the euro soared against the pound in a steady third-wave rally to two-month highs, the pound-"bullish" UK retail sales report notwithstanding:
As for where the euro/pound currency rate is headed next… our Currency Pro Service is 100% certain of one thing: The answer is not in the news!
---
Learn How the Elliott Wave Principle Can Boost Your Forex Trading Success
Put the power of the Wave Principle to work in your forex trading with this free, 14-page eBook. EWI Senior Currency Strategist Jim Martens shares actionable trading lessons and tips to help you find the best opportunities in the FX markets you trade.
This article was syndicated by Elliott Wave International and was originally published under the headline EURGBP: A Picture of Elliott Wave Precision. EWI is the world's largest market forecasting firm. Its staff of full-time analysts led by Chartered Market Technician Robert Prechter provides 24-hour-a-day market analysis to institutional and private investors around the world.