Bull Markets Do Not Last Forever
We had a good run:
As the year 2020 starts we revisit the stock valuation chart that sheds a light to the irrational exuberance at play once again:
We are at 2000 Nasdaq Bubble levels! Deja Vu?
The coming crash will go into history books. Are you ready?
Read the 2nd Edition of the Bestseller that Forecast the 2008 Meltdown
Learn how to Survive and Prosper in a Deflationary Depression with 42 FREE pages from the New York Times Bestseller.
When Conquer the Crash published in 2002, its message of a coming economic earthquake was the total opposite of mainstream opinions (see for yourself —download 8 free chapters of the contrarian classic).
Many other financial books at that time talked about getting rich in real estate, or boldly forecast how high the Dow would go.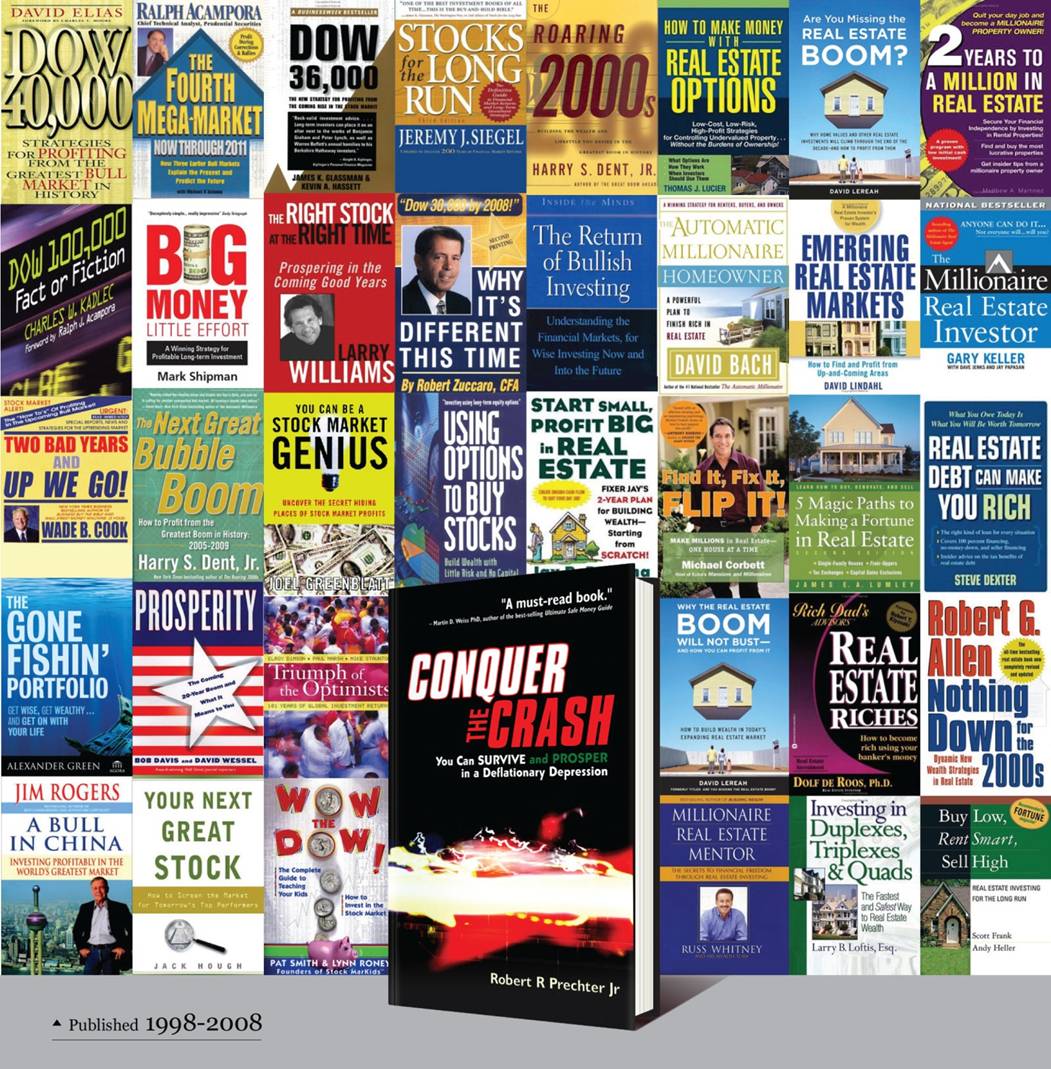 Yet in 2007-09, the world saw how quickly financial conditions can reverse.
Even so, most economists remained dismissive of deflation.
Since the financial crisis, "deflation" did appear more often in the financial press. Still, most economic observers continue to believe that inflation is likely.
So how do youpreparefor deflation?
That's where the second edition of Conquer the Crash comes in.
Page after page of this unique book tells you exactly how to prepare for the economic implosion ahead.
The ultimate effect of deflation is to reduce the supply of money and credit. Your goal is to make sure that it doesn't reduce the supply ofyourmoney and credit. The ultimate effect of depression is financial ruin. Your goal is to make sure that it doesn't ruin you.
…Being unprepared will leave you vulnerable to a major disruption in your life.Being prepared will allow you to make exceptional profits both in the crash and in the ensuing recovery.For now, you should focus on making sure that you do not become a zombie-eyed victim of the depression.
Conquer the Crash, chapter 14
A deflationary depression does not have to mean economic hardship for you and your family — IF you prepare yourself now.
Yes, Conquer the Crash is a book you can and should "judge by its cover," but you don't have to:
---
| | |
| --- | --- |
| | Read 8 FREE chapters of Conquer the Crash; You Can SURVIVE and PROSPER in a Deflationary DepressionThis free, 42-page report can help you prepare for your financial future. You'll get valuable lessons on what to do with your pension plan, what to do if you run a business, how to handle calling in loans and paying off debt and so much more.Get Instant Access to Your FREE 8-Lesson "Conquer the Crash Collection" Here |
Mark Hulbert's column for MarketWatch.com said, Robert Prechter "came the closest … to forecasting what was about to take place." One thing the noted financial columnist left out was that many of Prechter's forecasts still lie in the future. The long-awaited second edition of Prechter's bestseller, Conquer the Crash, is finally here! Prudent investors should read his prescient insights, what he believes is still ahead and what you can do to protect your wealth today. Visit Elliott Wave International to order Conquer the Crash 2.
Today's financial and economic tribulations were a long time in the making. Many people ask, "Why didn't someone see it coming?"
But a New York Times bestselling book did see it coming. More than 100,000 people read it in time to protect their wealth.
They read this about real estate:
What screams 'bubble' – giant, historic bubble – in real estate today is the system-wide extension of massive amounts of credit to finance property purchases…. Many people have been rushing to borrow the last pennies possible on their homes. They have been taking out home equity loans so they can buy stocks and TVs and cars and whatever else their hearts desire at the moment. This widespread practice is brewing a terrible disaster.
And this about stocks:
…the number one precaution to take at the start of a deflationary crash is to make sure that your investment capital is not invested in stocks, stock mutual funds, stock index futures or any other equity-based investment.
About Fannie Mae and Freddie Mac:
Investors in these companies' stocks and bonds will be just as surprised when [Fannie and Freddie's] stock prices and bond ratings collapse. Most rating services will not see it coming.
About junk bonds:
Don't think you will be safe buying bonds rated BBB or above. If you have invested in municipal bonds, consumer debt, real estate debt, junk bonds or anything other than top-grade paper, sell it at today's lofty prices.
All these observations are from Robert Prechter's Conquer the Crash, first published in early 2002, when the Dow was above 10,000 and the financial world was partying around-the-clock. Fast forward to today: The average U.S. homeowner has suffered a decline of 30% to 40% in property value. Stocks and commodities had their biggest fall since 1929-1932. Fannie Mae is a zombie corporation under the government's protection.
If Prechter thought a whole new book would help, he'd have written one. But Conquer the Crash is a book-length forecast that's still coming true— only someof the future has caught up with the specific predictions he published back then. There is much more to come. And that means more danger but also great opportunity.
The same authorities who said "the worst can't happen" now claim that "the worst is over." That's one of the many reasons why Prechter is choosing now to put out a second edition of Conquer the Crash.
Conquer the Crash, Second Edition, offers you 188 new pages (480 pages total) expanding Prechter's unique deflationary argument and escorting the reader through the stock market's manic climb to the 2007 peak. (If you think you remember this period, wait till you read Prechter's description.) And it still includes allthe original forecasts and recommendations that make the book as compelling and as relevant as the day it was published.
In every disaster, only very few people prepare themselves beforehand. Think about investor enthusiasm in 2005-2008, and you'll realize it's true. Even fewer people will be ready for the soon-approaching, next leg down of the unfolding depression.
Prechter warns that the doors to financial safety are closing all over the world. Prudent people need to act while they still can.
We couldn't agree more. This book is a must-read. Get ready before the Kondratieff Winter intensifies! Get ready to be amazed by the solid logic explained in the book aided by numerous eye opening charts that will change your view of the financial markets! Visit Elliott Wave International to order.
About the Publisher, Elliott Wave International
Founded in 1979 by Robert R. Prechter Jr., Elliott Wave International (EWI) is the world's largest market forecasting firm. Its staff of full-time analysts provides 24-hour-a-day market analysis to institutional and private around the world.
Bob Prechter's "Conquer The Crash": Eight Chapters For Free
When EWI President Robert Prechter sat down to write the first edition of "Conquer The Crash" in 2002, the idea that the United States would enter a period of what news authorities coined "economic Armageddon" several years later was unheard of.
Flashing back, the major blue-chip averages were rebounding off a historic bottom, the notorious dot.com bust was making way for a powerful housing boom, Fannie Mae's chief executive was named "the most confident CEO in America," then President George Bush was enjoying a 60%-plus approval rating, Gulf War II hadn't begun yet, and when it did, a "quick and easy victory" was supposed to follow, and the Federal Reserve was largely credited with slaying the big, bad bear via the sharp blade of monetary policy.
Five years later, the tables turned. The U.S. housing market endured its worst downturn since the Great Depression; Fannie Mae's CEO was ousted amidst a mortgage crisis of incalculable damage. George W. Bush left the oval office with a record low approval rating of 25%, and the expected "cakewalk" victory in Iraq became a "quagmire" and national dilemma.
Anticipating these and other "shocks" to the global system is the unparalleled achievement of "Conquer The Crash." Here, the following excerpts from the book put any doubt to rest:
Housing: "What screams bubble – giant historic bubble – in real estate is the system-wide extension of massive amount of credit." And "Home equity loans are brewing a terrible disaster."
Bonds: "The unprecedented mass of vulnerable bonds extant today is on the verge of a waterfall of downgrading."
Fannie Mae & Freddie Mac: "Investors in these companies' stocks and bonds will be just as surprised when the stock prices and bond ratings collapse."
Politics: "Look for nations and states to split and shrink." And — "The Middle East should be a complete disaster."
Credit Expansion Schemes "have always ended in a bust." And — "Like the discomfort of drug addiction withdrawal, the discomfort of credit addiction withdrawal cannot be avoided."
Banks: "Banks are not just lent to the hilt, they're past it. In a fearful market, liquidity even on these so called 'securities' [corporate, municipal, and mortgage-backed bonds] will dry up." (176)
If the tools in Bob Prechter's analytical toolbox, namely Elliott wave analysis and socionomics (Prechter's new science of social prediction based on the Wave Principle), enabled him to foresee these "sea changes" in the economic, social, and political landscape — the only question is: What else do the pages of the "Conquer The Crash" reveal?
Well, your opportunity to find out just got a whole lot easier. Right now, you can download the 8-chapter Conquer the Crash Collection, free. It includes:
Chapter 10: Money, Credit And The Federal Reserve Banking System
Chapter 13: Can The Fed Stop Deflation?
Chapter 23: What To do With Your Pension Plan
Chapter 28: How To Identify A Safe Haven
Chapter 29: Calling In Loans & Paying Off Debt
Chapter 30: What You Should Do If You Run A Business
Chapter 32: Should You Rely On The Government To Protect You?
Chapter 33: Short List of Imperative 'Do's' & 'Don'ts"
To this day, I wonder why Robert Prechter's book Conquer the Crash has not been more widely recognized. It described in advance much of what happened in the 2008 financial crisis.
Published in 2002, the original book provided detailed descriptions of then-future economic scenarios. They were detailed vs. general. Prechter was specific in a way that would prove right or wrong; there was no gray.
This is from the book:
There are five major conditions in place at many banks that pose a danger: (1) low liquidity levels, (2) dangerous exposure to leveraged derivatives, (3) the optimistic safety ratings of banks' debt investments, (4) the inflated values of the property that borrowers have put up as collateral on loans and (5) the substantial size of the mortgages that their clients hold compared both to those property values and to the clients' potential inability to pay under adverse circumstances. All of these conditions compound the risk to the banking system of deflation and depression.
Conquer the Crash, second edition, (p. 179)
That's just one excerpt about one topic in a 456-page text. Perhaps you see why I believe the book deserves more credit. Yet even that one paragraph from the book turned out to be a virtual mirror of what came to pass. And much of what he predicted is unfolding today: the JPMorgan trading fiasco, massive withdrawals at Greek banks, downgrades of Italian and Spanish banks and much more. Those are just a few headlines.
The broader point is that Conquer the Crash prepared its readers. And the credit implosion is still not over. Please take a look at the chart: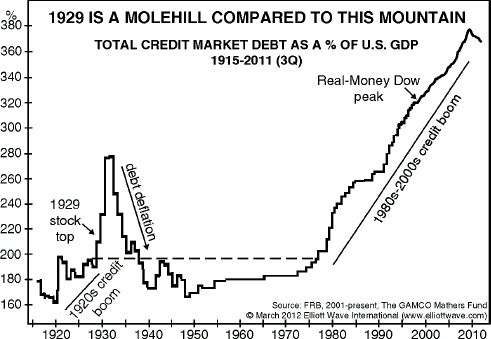 In the Conquer the Crash quote in the first part of this article, you'll notice the last three words are "deflation and depression."
The world has yet to completely pass through these economic valleys.
| | |
| --- | --- |
| | It's not too late to prepare yourself for what's aheadElliott Wave International is offering a special free report with 8 lessons from Conquer the Crash to help you prepare for your financial future. In this 42-page report, you'll get valuable lessons on what to do with your pension plan, what to do if you run a business, how to handle calling in loans and paying off debt, a list of imperative do's and don'ts, plus much more.Get Your FREE 8-Lesson Conquer the Crash Report |